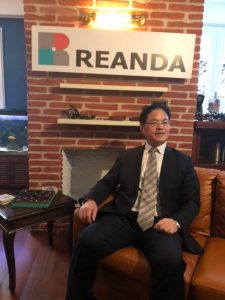 Q: In your words, how would you describe the Belt and Road Initiative? We would like to hear from you the vision behind this initiative.
A: The Belt and Road Initiative (BRI) is not a plan, but instead a vision itself.The scope is immense: BRI encompasses 65% of the world's population and %40 of global GDP. The BRI is often compared to the United States' Marshall Aid, that with today's prices only amounts to $130 billion. However, BRI has a much bigger scale with much longer time horizons with its 900+ projects and a trillion dollar already spent.
Q: We notice that some of the projects pre-date the usage of the term BRI itself. In that sense, would it be fair to say that BRI seems to cement and accelerate a process that has been ongoing since the inception of "Go Outwards Policy of 1999"?
A: You may, to some extent, say that. As we all know, China's economy for the past few decades, has been generally summed-up in one phrase: "inward foreign direct investment". From the late 1980s, the nation became the globe's favorite center for manufacturing, and Western companies flocked to get their slice of cheap Chinese labor in their droves. However, since 2000, this has changed, and China has increasingly exerted itself outwardly on foreign markets, with major Chinese companies such as Huawei and Lenovo now major international players. The policy regarded as being behind this sea-change is the Chinese government's Go Out policy.
Contrary to many assumptions, outward investment from China can hardly be described as a new phenomenon. Although on a comparatively limited scale, the origins of Chinese FDI abroad can in fact be traced back to Deng Xiaoping's initial economic liberalization measures whereby some state-owned enterprises (SOEs) were permitted to invest overseas. By the early 90s, non-SOEs were permitted to invest in approved foreign entities subject to satisfying governmental requirements.
Now we are talking about a colossal initiative based on the export of investment, know how, technology and goods.
To sum up China has been known for its consistence and dedication to long term strategies, therefore it should not be surprising that one policy is the continuation of another.
Q: When we revisit the expansionist experiences of the United States and Britain, we see that both of them had a major impact on the international order and international society. How do you think the BRI will affect global governance?
You are right to compare those highly impactful expansions; however, unlike the US and Britain, globalization and expansion with force, albeit by economic or otherwise, has never been the Chinese way.
BRI aims to eradicate poverty, create jobs, address the consequences of international financial crises, promote sustainable development, and advance market-based industrial transformation and economic diversification. To quote from President Xi's address at the Belt and Road Forum, "In pursuing the Belt and Road Initiative, we should focus on the fundamental issue of development, release the growth potential of various countries and achieve economic integration and interconnected development and deliver benefits to all."
Q: How do you think BRI and "Made in China 2025" will affect each other and how the new era of Industry 4.0 fueled western industrialism will respond?
Industry 4.0 is the current trend of automation and data exchange in manufacturing technologies. It includes cyber-physical systems, the Internet of things, cloud computing and cognitive computing. It fosters what has been called a "smart factory". Consequently, it aims to diminish the human factor in production therefore minimize losses due to human errors.
This, at first glance, seems to be a disadvantage for China. However, the low-cost labor dependent Chinese manufacturing is an image from 90s. In 1990, China accounted for 3% of worldwide manufacturing by value. By 2011 it had become the world's largest manufacturer.
In 2015, China unveiled its 10-year "Made in China 2025" plan designed to transform China from a manufacturing giant into a world manufacturing power. Nine prioritized tasks included improving innovation, integrating Information technology and industry and strengthening the industrial base.
In 2018 the plan was updated and now includes the goal of becoming the number one in industrial "research and development."
One might conclude that Made in China 2025 (proposed in 2015) is an answer to Industry 4.0 (proposed in 2011) however it is not. It is the result of a long-term strategy of transforming Chinese manufacturing and the related policies. One would also think that those two initiatives are in a fight of rivalry, but one should also consider that China is the first official partner of Germany to further develop Industry 4.0.
Q: As you mentioned, the initiative is unprecedented in terms of the size of investments. Do you think the initiative will, therefore, be a success?
I have no doubt that the overall project will be a success. However, when we consider each country on the BRI separately, we are likely to see highly successful applications and less than successful ones.
This being said, success itself is a subjective term and will vary from country to country. There is clearly a geopolitical element, as well as an economic element, to the initiative. Where the reason for engagement is more geopolitical than economic, we can expect economic difficulties surrounding some of the projects in the same region and these may differ from country to country. In some countries the priorities of the BRI and the local population may seem to be in conflict. Balancing sometimes-conflicting objectives will be a challenge; yet not an impossible one to overcome.
I expect the BRI to have a huge impact over time and help to transform much of the developing world. We are not talking of a few years, or even a decade, but certainly decades and probably fifty years or longer China will need to be very sensitive to local oppositions and demonstrate a capacity to learn from each country's specific experience. Again… nonetheless local or cultural problems, I am confident that BRI that will be a huge success.
Q: Can you tell us about Reanda and its BRI strategy?
BRI is a Chinese initiative and Reanda, routed in China, is the twentieth largest and the fastest growing global advisory and audit network. It would be a grand mistake not to build our growth strategy overlooking the vast opportunities and to some extent, responsibilities presented BRI.
We develop our network giving priority to establishing representations and partnerships along the BRI corridors. It is our priority to assist the Chinese companies operating in those countries as well as the local companies of the same countries planning to enter the Chinese market. For this particular reason we have established a bilateral service providing network called "The China Desk"
Reanda China Desks are supported up by professionals with extensive knowledge in Chinese accounting standard and regulations. The China Desks draw on the expertise and knowledge of these professionals to provide technical support for realizing clients' business ambitions. With close ties to our China member firm, all China Desks are inter-linked to be the platform for leveraging our abilities to service Chinese-oriented assignments, narrowing cultural gap as well as providing seamless professional services to Reanda clients.
Q: What role does Turkey have to play in the BRI and what are the risks and rewards associated with its involvement?
Turkey is not only one of the highly important partnering countries of the modern BRI but with İzmir being the starting city of the Asia-Minor corridor and Istanbul being the bridging city of the Asia-European corridor, it also was one of the major countries along the ancient Silk Road.
Turkey also is a one of the five G20 countries partnering in the BRI, second largest economy of those and the 17thlargest economy of the world.
Turkey is also the pedestal of stability in an otherwise conflicted region and presents great opportunities for post-conflict era in the same region.
The Turkish case may also contribute to the definition of BRI's success at a local level. I think a key gauge of success would be to what extent stakeholders in countries other than China participate in the initiative – for example, if non-Chinese investors show an appetite to participate and co-finance BRI projects, then the pools of available financing will be much greater and the capabilities of the BRI much larger. Turkey has developed its own economic corridor but wants to classify it under the BRI.
Q: What is the current status of Reanda International Network?
Reanda International Network is an international accounting network with independent Chinese brand initiated by Reanda Certified Public Accountants and established according to the "Big Four" management model, which is engaged in cross-border accounting and tax services.She has innovatively stepped out of an distinctive international development mode of "shipbuilding and sailing".Up to now, after nearly 10 years of development, Reanda international has 31 overseas member firms, most of which are located in the countries or regions along the "Belt and Road" area.Reanda has more than 200 partners and more than 4,000 employees,  global business revenue has exceeded 1.2 billion CNY, and it has been ranked among the top 20 international accounting companies since 2011. Reanda International has been nominated for "2016 Annual Best Accounting Network" in International Accounting Bulletin and successfully ranked the top four. In 2017, Reanda won the fifth China business innovation conference "top ten innovation brand award of China industry 2017". Its overall strength and brand image are highly concerned and affirmed. The future development prospects are immeasurable.
Q: Are there any achievements Reanda made in "Belt and Road"?
Since the establishment of Reanda International Network, it has accumulated social contribution worth over 6 billion CNY. Reanda International is able to provide cross-boader financial and tax professional services in eight business sectors, including auditing, evaluation, taxation, investment and financing, cost engineering, management consulting, accounting services and international business. Since 2015, Reanda International Network has been providing services for Belt And Road related projects, such as auditing and due diligence for Chinese enterprises overseas acquisitions and overseas financing. In 2015 the first overseas representative was sent to Malaysia. Malaysia was set as the center to help southeast Asia member firms to better provide professional services for Belt and Road related project in the region.
We held relevant forums and discussed with business services organizations, which integrated resources, complemented each other, strengthened alliances, jointly responded to the call of the "Belt and Road" initiative, seized opportunities and met challenges.We will strive to play a greater role in Belt and Road construction and achieve higher and stronger development. We have continuously held an annual "Belt and Road" theme of global partner conference, promoted "Belt and Road" initiative, at the same time, we have conducted experience sharing and results display on the "Belt and Road" project of Reanda International Network, which will enhance all overseas members firms' understanding of the "Belt and Road" initiative, and enhance the ability of overseas members to serve the "Belt and Road" project through sharing and exchanging.
Q: How to promote the development of Reanda Turkey?
Turkey's economy has risen rapidly in the past decade, with an average GDP growth of nearly 5%, making it the 17thlargest economy in the world.Turkey is located at the junction of Asia and Europe, and its regional advantages are highlighted.Turkey is an important cooperative partner of China. Since the establishment of diplomatic relations, bilateral relations have developed smoothly. Turkey is an ideal destination for Chinese enterprises to "go out".The development of Reanda international network in Turkey is of great significance to better serve overseas Chinese enterprises. Reanda International Turkey joined Reanda International in December 2017, 6 partners and 48 professionals are qualified to provide auditing, consultancy, legal and compliance services for the enterprise.In order to further help Turkey's development, our visit will introduce the relevant partners of Turkey to the counselors of the Economic and Commercial Counselor's Office of the Chinese Embassy in Turkey, and apply Reanda Turkey to join the China chamber of commerce in Turkey to help Turkey establish contacts with local Chinese enterprises and obtain services for them, and to further expand related businesses.We will also take advantage of the Chinese government's "Belt and Road" initiative to promote the relevant projects in Turkey. At the same time, we will also delegate professionals in Reanda China to provide technical support to local Chinese enterprises in Turkey, which will also improve the quality of service in Turkey, and further promote business cooperation between Reanda Turkey, Reanda China and other member firms of Reanda International network.
 Q: What is the future development plan for Reanda International Network?
After nearly ten years of development, Reanda International Network has now entered the second stage. While expanding its member firms steadily, the focus of its work has shifted to promoting the development of existing member firms and the managing the network platforms, improving management mechanisms, establishing regional presidents, and implementing regional management of member firms,Strengthening the supervision of the quality of the member firm practice, improving the quality of customer service and improving the rankings of the member firms.At the same time, Reanda International network has also been committed to promoting business cooperation within the network and helping the overseas members to connect and expand their business with the help of the relevant policies of the Chinese government's "free trade zone" and "Belt and Road".We will establish representative office and delegate liaison officers in qualified countries or regions, which will help member firms of the region to create links with local Chinese enterprises, to provide services and to share the fruits of China's economic development with all overseas members.In the next five years, Reanda International Network should steadily expand its complex business, increase the proportion of non-audit business, gradually increase business income, meanwhile, we should enhance the growth of the China-related business in the member firms' business year by year, and improve the network international ranking.